Description
Siberian PE is a complete app builder platform that you can install on your own server. It allows you to start your business online with your own app platform being completely independent. Just generate some traffic on your platform and let your clients create their apps and pay you online through the payment gateway integrated in the Platform Edition with auto billing each month. From your backend you manage users, clients, invoices, business model and subscriptions. If you want to have your own platform like the biggest app platforms on the web, then get Siberian PE.
Features to include in your apps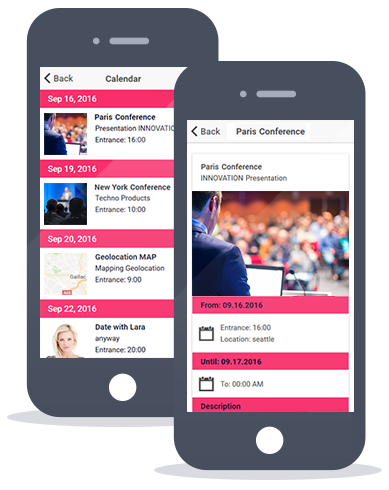 Calendar
What if your users can be informed about your next events? Showcase your events from your Facebook page, or Google Calendar. You can also create your own custom events.

Booking
Allow users to book a seat, a slot, a table or anything you want, with an easy and multi-stores plug-in. The form is sent to the right store following the user's validation.

Job
This is your feature for providing a recruitment tool from which companies can post their job offers. Each member you set as a company admin will be able to publish the available open positions. Candidates can apply directly from the app.

Folder
The feature to organize your content. With Folder, you can create your own app tree, with folders, subfolders, sub-subfolders, your pages in them. You can even add a search box to help your users to find the content they're looking for.

Padlock
If you need to lock your app wholly or partially that's the feature you need. Choose the pages you want to protect and how they have to be protected, and regular users will not be able to access the locked content. If you select a protection through membership, the accounts you have authorized will be able to access the locked pages. If you choose a QR Code protection, only users who have the QR Code will have access to your protected sections.
Your Demo

Dashboard
At a glance, manage all your operations from your dashboard: from how many push notifications have been sent to how many customers are using your CMS.

Manage Users
From your back end you can manage all your users, the apps which they are associated to, if they are still allowed to login, if they can build the apps from their account, etc.

User roles
Create as many roles as needed to allow your users to access specific parts of your CMS. You can define if a user can access a specific feature, and even a specific page of his app.

Translations
Your CMS is multi-lingual. Install language packages from our marketplace, and/or add new languages in one click and translate easily from a simple interface.

Previewer App
Let your users live test their apps on their mobile thanks to your previewer app. A pre-made app you can customize with your own colors and logo to bring a premium service all along with your app maker. (Paid module)

Generating APK &iOS Auto-Publish
Eliminate the hassle of generating apps manually. You can click on a button to build them automatically to get them published on the app stores. (available on commercial editions for Android, and as a paid module for iOS)

Payment Gateways
Available in your Platform Edition: add several payment gateways to let your clients pay their subscriptions on your platform. Choose from Paypal, 2Checkout or Stripe.

Invoices & Subscriptions
Available in your Platform Edition: everything is automated, from charging your clients based on the pricing plans you have set to creating their invoices. You can lean back and watch your revenue grow.

Previews popups
A simple way to improve the user experience in your CMS: add and manage popups to allow your users to preview a feature before adding it to their applications. You can duplicate the previews in all languages
Here is the general documentation.
Learn how Siberian CMS works and explore the features.